Part of my recent travels to Nicaragua included participation in a workshop on cooperatives, the most recent in a series of workshops focused on the rural coops in the northern coffee region.  Winds of Peace has been sponsoring these workshops over the past two years, allowing tier one coops to meet and discuss issues with tier two groups, buyers, funders, technical assistance organizations and more.  These have proven to be unique opportunities for these groups to assemble for several days, discuss production and commercialization issues, to learn of each others' concerns, and hopefully to create alliances among one another  that will strengthen all.  The sessions have proven to be enormously popular among the participants;  other, non-invited cooperatives have consistently inquired about the possibilities of their own participation.  Time will tell whether the organizational strengthening work that they are doing will create significant development, but the early indicators are positive.
In this most recent workshop, we heard presentations on topics of innovation, and primarily from the youth of the region.  In turn, each of the nine stood before the other sixty  participants and carefully described the business plan of an economic initiative of their creation.  The plans were articulated with detail, enthusiasm, and realistic expectations.  They ranged from a regimen of plastic bottle recycling to the raising of honey bees.  PowerPoint presentations brought the ideas to life as each innovator spoke to issues such as strengths, weaknesses, opportunities and threats to their plans.  Each had thought through the myths and misconceptions that might have prevented others in the past.  And the plans examined the initiative from a full range of perspectives, including intellectual, social, emotional, spiritual, occupational and physical dimensions.  I was impressed; frankly, I have read business plans in the U.S. that were not nearly as well-crafted and holistic as these.  I noted in particular the confidence exuded by each entrepreneur as he/she laid out the plan of attack.
One idea caught my attention in a big way.  Abraham Cruz is an impressive, young family man who has been raised within the GARBO cooperative lands beneath the towering presence of Peñas Blancas.  His life and worldview in that beautiful natural environment have clearly shaped his thinking, as he presented an idea unique in my experience: he outlined the development of a "colibrario," a preserve, or sanctuary, for hummingbirds.
Within the restricted confines of his own yard, Abraham decided to act upon his interest in these tiny creatures.  He began learning more about their habitat, the types of plants that attracted the various species- five found within Nicaragua- and commenced a regimen of planting and cultivating around his yard.  In fact, he spent a great share of every day developing this environment, sometimes to the derision and even unhappiness of others.  "Why do you plant flowers all day?" people would ask.  "Who cares about these hummingbirds, anyway?  This is lazy work.  You are interested in useless things."  Conventional thinking regarded Abraham's commitment to this small aviary a waste of time.   Fortunately, Abraham was far more attuned to his own inner voice than the noise surrounding him.  He persisted in cultivating his yard space to attract and nurture the proliferation of the tiny birds.  And the endeavor has worked.  As Abraham toured us through his densely-packed yard, he pointed out one dazzling aerial acrobat after another.  As we enjoyed the array, Abraham talked about the future plans he has in mind to attract even more birds, to invite more  of the native species into view, to document their habits and behaviors, and to introduce tourists to this amazing world of laser-like flight.  Abraham is nothing less than a self-made ornithologist.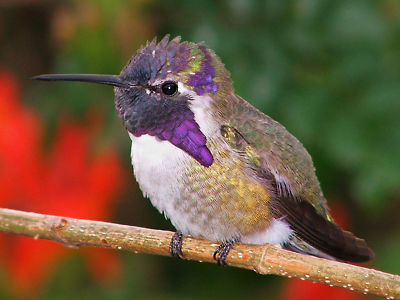 For me, personally, hummingbirds occupy space in that niche of wildlife that commands a deep awe and attention.  Like giant pandas, penguins and porpoises, there is something intensely attractive about hummingbirds, a quality that captures our imagination and love for them.  We set out all kinds of devices to attract these kinetic creatures: sugared water cones and brightly flowered feeders and large flowering plants.  Maybe it's due to their tiny size that we recognize their vulnerability and feel instinctive desires to feed and protect them.  Like newborn puppies, hummingbirds are nearly irresistible.  And in this visit, I was able to be as close to these creatures as I have ever been.   I had the opportunity to feel the communing experience that Abraham described in his earlier presentation, an up-close and personal connection with a part of nature which somehow fulfills us in ways we can't always explain.     But that space is an essential one for each of us, whether we always recognize it or not, whether the world at-large sees it or not.
At the end of our two days in the workshop, as the youth from the various cooperatives prepared to set off on their varied project journeys,  I found myself hoping that they had found the time to visit with Abraham at his home and to experience the project that was already unfolding there.  I know that they heard his story about his hummingbird dream.  I know that they understood all too clearly the hurt that comes from derision of new ideas which don't comport with conventional thought.  I even thought for a moment about offering the famous quote from Albert Einstein, when he said, "Great spirits have always encountered violent opposition from mediocre minds."  But in the end I can only hope that they share the same resilience that Abraham has displayed in remaining true to his own muse and that they, too, continue in their pursuit of useless things….